The words, 'Do not go gentle into that good night,' used to send shivers down my spine and throw me right back to that nightmare – the leaving certificate. But I'll never forget that it was Dylan Thomas who wrote the poem or that it was about the death of his father. As 58,000 Irish students received their leaving cert results today I think it's worth noting that exams are not as important as enjoying books and poems after we finish our schooling.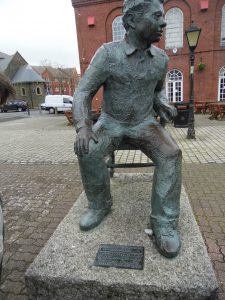 That's why I jumped at the chance to go on an Odyssey to discover more about Dylan Thomas, the man and the myth in South Wales. The town of Swansea, where Dylan was born, has also given us Tom Jones and Shirley Bassey. It is set up for a revival, and the old docks that once were filled with coal ships now offer an eclectic mix of restaurants and bars.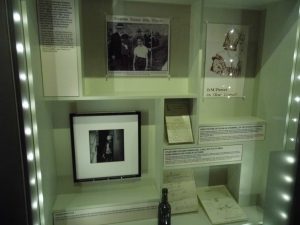 I started at the Dylan Thomas Centre which is a small but accessible museum set in the Old Guild Hall. It holds a host of letters and information about Dylan and his life in Wales, London and where he met his tragic end in the infamous Chelsea Hotel in New York. It is an interesting place to get a picture of the poet's life and hear his recorded work on the interactive displays. I was especially intrigued by the beautiful illustration of his play for voices, 'Under Milk Wood', which was recently re-recorded by famous Welsh stars, including Charlotte Church, Sir Tom and Cerys Matthews.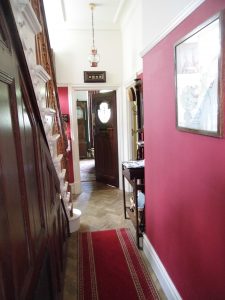 5 Cwmdonkin Drive is the home where Dylan was born and lived for much of his life. It has been carefully and authentically restored by the Haden's who make it available for rent on a Bed and Breakfast basis and it would be a wonderful treat to send a fan of the poet here for an overnight break. The Thomas' Maid was alive until a few years ago and she was able to describe the décor of the house from Dylan's time in great detail, so it is a genuine trip into the past. Dylan's tiny bedroom looks as if he stepped outside for a moment. It is complete with images of him and his first girlfriend and authors who inspired him, including our own Joyce and Yeats.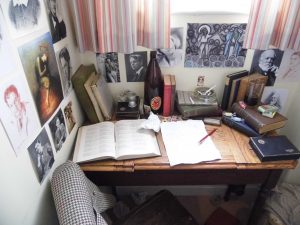 Cwmdonkin Park is close by the house, and it is here that the young Dylan ran in the open spaces and here that recitals will be happening all this year to commemorate the poet – especially during this the centenary of his birth.
Don't leave Swansea without taking a trip out to the Mumbles – a suburb set at the mouth of the sea where there are a host of beautiful restaurants and bars which Thomas and the people of Swansea went to enjoy their leisure time. I dined in 'Patricks With Rooms' and was blown away by the presentation and cuisine which included Laver bread (a substance similar to seaweed and mentioned in Under Milk Wood).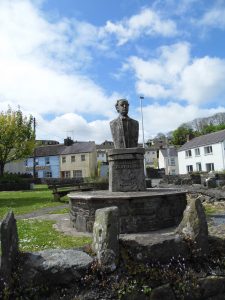 It is impossible to make a pilgrimage to Dylan Thomas country without visiting the small town of Laugharne, pronounced Larne. The scenic route to take from Swansea is via the Gower Peninsula. The Gower is criss-crossed with winding roads and ditches filled with wild-garlic and bluebells. Along the way you can see Llanstefan and the landscape that inspired his poems, such as 'Fern Hill'. The town of Laugharne has long been credited as the inspiration for Dylan's 'Under Milk Wood,' and if you visit Brown's Hotel Bar on a Saturday night you may be able to spot a few of the characters who appear to be alive and well and enjoying the local brew at the counter.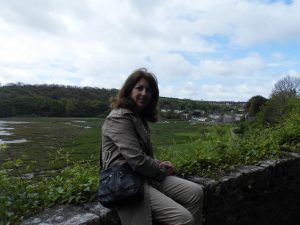 I dined later in The Cors Restaurant, a quirky eatery with delicious cuisine. Set among exquisite gardens, The Cors also offers accommodation and is well worth a visit if in the locality. An interesting pilgrimage linked closely to Dylan's 'Poem in October' traces the route he took on the morning of his thirtieth birthday. Bob Stevens is the creator of this excursion and it is a delightful way to follow the steps that Thomas walked himself. But you mustn't leave laughaurne without visiting the Boathouse where Dylan and his tempestuous wife Caitlin lived towards the end of his life. The actual shed where he worked is reconstructed and set in a magnificent horseshoe cove. The Boathouse at the water's edge is now a visitor's centre and tea rooms and must be seen. Dylan Thomas is laid to rest in the grounds of St Martin's church – only a short stroll from Brown's Hotel. His grave is marked by a brightly painted white cross.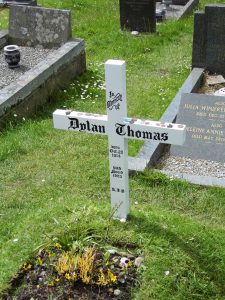 I returned to Cardiff to catch my flight home with my head full of poetry but there was still so much to see and do. Cardiff Castle is a remarkable museum with some of the finest examples of decor from the Arts and Crafts Victorian movement. Created at a time in the nineteenth century when the owner, The Marquis of Bute, was the richest man in the world. Just outside the castle is the main shopping street and a covered market with quaint shops and boutiques.
Whether you decide to fly into Cardiff or take the ferry from Rosslare, Wales is only a stone's throw across the pond and well worth a visit this summer.
www.dylanthomasbirthdaywalk.co.uk
For information on upcoming events to celebrate the centenary of Dylan Thomas see www.dylanthomas.com