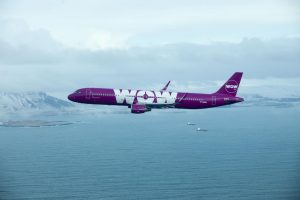 WOW air have opened up the skies for European travellers with cheap connections to the USA and Canada. I tried them out with the kids who have very clear ideas about what they like on a flight. After a short stop-off in Reykjavik which took two hours the second leg of the journey to Montreal took five hours. A short cab ride later and we were at the trendy urban Hotel Zero1. It's in a great location close to everything and our family suite has a kitchenette and sofa that turns into a second double bed.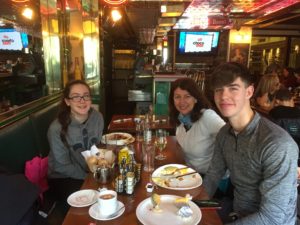 The Latin Quarter is ten minutes away, a buzzing hub for eateries and nightlife. In Mache restaurant, my daughter Nicole, orders her first genuine Poutine, a local dish of fries smothered in gravy and cheese!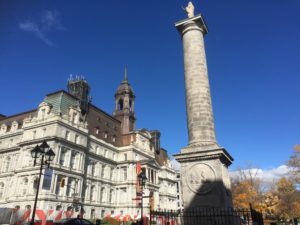 Next morning at breakfast, we are asked our room number in French by the waitress and another school day beckons for the kids. Montreal is celebrating 375 years next year, with construction sites all over town in preparation for the festivities. We take a stroll through the old town hugged with authentic buildings and the charming Notre-Dame Basilica which was designed by an Irish man.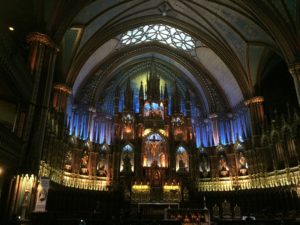 The Jacques Cartier Square is lined with street cafes in summer that lead down to the waterfront and stars like Bruce Willis and Keanu Reaves are often in town filming. We binge on muscles and more Poutine at Le Fripon cafe and enjoy the local cider. It's easy to get lost in lovely galleries and shops in this part of town.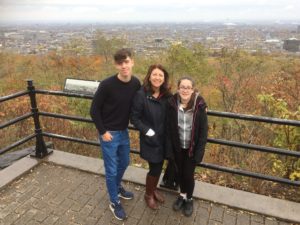 History comes alive at night in Old Montreal with movies projected on to the facades of buildings. We download the app 'cite memoir' and get the full narrative on our phones which really brings art to life. The Montreal Museum of Fine Arts has a wonderful collection of European masters and decorative arts which is reflected all around the city in pieces of street sculpture like the Illuminated Crowd.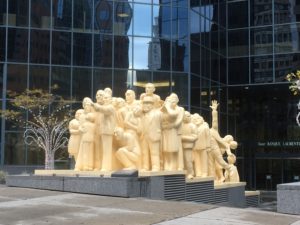 The remains of EXPO 1967 at Parc Jean-Drapeau are being carefully renovated for the sixtieth anniversary next year.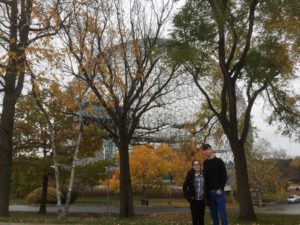 Expo was situated on the island where the Montreal grand prix race is held, it's a cacophony of gold and red in late autumn. The track is used for local cyclists and rollerblading off season.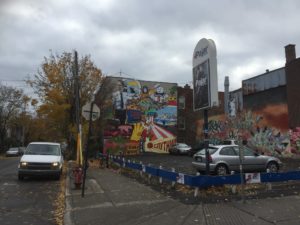 It's time for the science bit, as we hop on the Metro to the planetarium for a performance of 'We are Stars'. We hurtle through space while lying on beanbags in the middle of the Theatre of Chaos.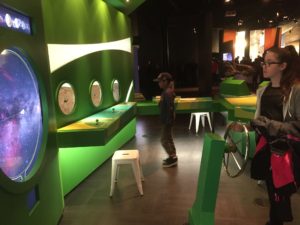 The film is shown on the ceiling as young and old are absorbed in the thirty-minute story. We fiddle about with the interactive exhibits in the Planetarium before going next door to The Biodome to see indigenous Canadian wildlife.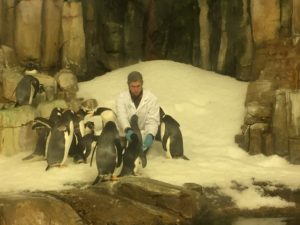 Montreal loves festivals so there's always something happening, especially with food or the arts. This city of over one million has an easiness about it that will make you want to return, a little piece of France across the Atlantic.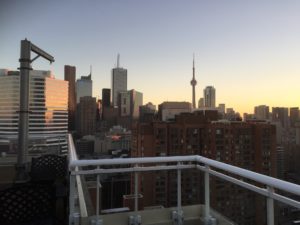 We take a train next day on Viarail to Toronto and five hours pass quickly, even though the WIFI isn't up to the teen's high standards. The Chelsea Hotel, the biggest in Canada, is our home for the next three nights. It's also exceptionally family-friendly with a swimming pool and the kids adore the newly refurbished family suites with a whooping three double-beds in our huge room. The choice of eating in the buffet downstairs is really good too and buying lunch for a family is considerably cheaper than European city prices.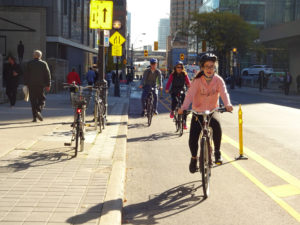 To get our bearings we take a tour next day with Toronto Bicycle Tours. Our host Terrance provides full equipment including drinks and snacks. He takes us through the heart of Chinatown, top spots like Kensington Market, the pastures (where office workers eat their lunch among sculpted cows) and all the way down to Lake Ontario.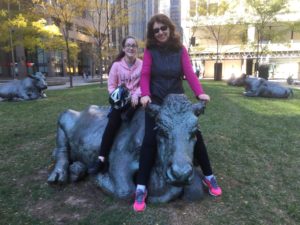 The hours whizz by as we figure out the main sights that we will get to next day, including the Hockey Hall of Fame and Casa Loma which has been the setting for many Hollywood films.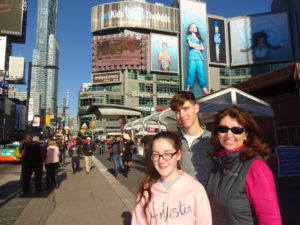 The highlight of the tour of course is The CN Tower, at one time the tallest building on earth. The view is a tidier version of New York and prices in the 360 restaurant are reasonable too. It's also next door to Ripley's Aquarium which will take up an entire afternoon between the two.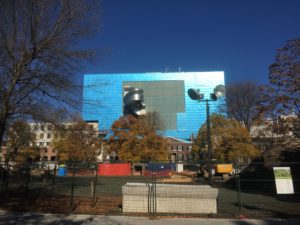 Niagara Falls beckons as we are picked up at our hotel by our Sri-Lankan Guide from King Tours . With free WIFI on the coach the happy teens don't even grumble when we stop off to sample the region's ice-wine. We lunch at Old Town Goodies in Niagara on the Lake, purportedly Canada's prettiest town.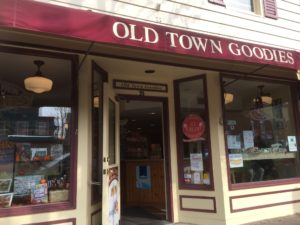 It's $7 for a massive sandwich including a free double ice-cream cone and drink. With full bellies we are ready for the awesome sight of Niagara Falls and autumn is a great time to avoid queues and enjoy the colourful foliage.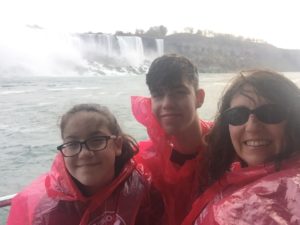 We are soaked as The Hornblower boat caresses the falls but the thrill is worth the wet. Our last day is spent shopping at Yonge and Dundas Square and we don't want our WOW out west adventure to end! But with such low airfares and the weak Canadian dollar, we might be back next year, eh?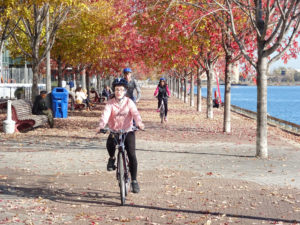 Factbox
WOW air fly from Dublin to Montreal start from €165.99, with flights to Toronto from €145.00. The WOW Stopover option allows passengers to explore Iceland on either leg of their transatlantic journey at no extra cost. For more info see www.wowair.ie. All prices quoted include taxes and charges.
 Check out this great package with Tour America
Toronto and Montreal multi centre-holiday from only €769pp!
Price includes all flights,
3 nights in Toronto hotel & 3 nights in Montreal hotel.
Based on 4 people sharing | Travel February 2017 | Reference 524812
For all you need to know in Montreal and Toronto go to:
www.tourisme-montreal.org
www.seetorontonow.com
Hotel Zero 1, Montreal
Room for 1 adult, 2 children starting from €186 a night
Hotels.com (https://ie.hotels.com/ho275151/hotel-zero-1-montreal-canada/)
Chelsea Hotel, Toronto
Room for 1 adult, 2 children starting from €142 a night
Hotels.com (https://ie.hotels.com/ho129625/chelsea-hotel-toronto-toronto-canada/)
torontobicycletours.com price per person for 3.5hr Downtown tour:  $70 CAD 13% taxes per person – includes use of bicycle, helmet, water, snacks and tour guide
King Tours day trip to Niagara Falls https://kingtours.ca/#tour